Instead of posting a lot of individual posts throughout the day I am going to just update this thread as I find the deals.
1) Free Sample: Arm & Hammer Toothpaste
Copy and Paste the following link: http://www.ahswitch.com/
into your browser to get a FREE Arm & Hammer Toothpaste Sample. If you've requested before, you won't be able to again.
2) 24 Free SeeHere Photo Cards
Right Now, you can get 24 FREE SeeHere.com
photo cards! Right now you can purchase 24 fully customized Photo Cards (4×8 size) for FREE! You will only need to pay for shipping! (To ship to my address the total was just $3.19!) From what I can tell, this offer is available for new SeeHere registrants only.
3) PaperSnaps FREE Fathers Day Greeting Card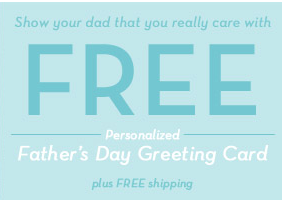 Looking for a way to show your Dad or Hubby how much you really care? PaperSnaps has an idea that they will love!
PaperSnaps is an Online Design Center where you can upload your favorite photo and customize your message. Send the man of honor in your life a FREE personalized Father's Day card to show him how much you care.
I know that my Dad always loved things like this from me when I was a kid, maybe you should have the kids send your hubby one instead
Make your Card
4) Free Trigger X Fishing Lure Sample Bag
As a Fishing family, we are stoked about this one!
Get a free sample bag of Trigger X by mail (while supplies last) when you sign up here for Rapala email news. Make sure you enter your address, city, state and zip code correctly to make sure we can send you the free sample bag.
5) Free 8x10 Canvas or $50 off Purchase
I love when this deal shows up on Canvas People. Right now, score a FREE 8×10 Canvas or get $50 off toward a larger canvas.
Every Canvas/Photo does tell a story. Chances are, there are probably some images you want to capture from this holiday season. Whatever the occasion, now is a great time to order from Canvas People.
Canvas People is sure you will use them again, so they are giving you a FREE 8×10 portrait. Not desiring an 8×10, go bigger and get $50 off your FIRST purchase.
It is as simple as working on any other photo site. Upload your photos, choose your size, and it is shipped to your home.
Above is ours – the way I took the photo doesn't really do it justice. We picked up the 16×20 and I got a frame with a 40% off coupon at Micahels – no glass or mat needed.
With $50 off the Current Prices
8×10 FREE
11×11 $13.99
11×14 $14.99
16×16 $28.99
16×20 $38.99 (Best Value!)
18×24 $48.99
Below is a sample order review.
Note: It will take 10 days to process and ship. S&H is around $15. You can try code FDAY11 for FREE S&H.
Every Canvas has a story – So what's yours?
Thanks Frugal Coupon Living
6) Free RevitaLens Starter Kit at Walmart
Still available!!
Print out this offer and take it to Walmart to receive a Free 2-oz RevitaLens Starter Kit with lens case and coupons!
Thanks Mojo Savings
7) Free High Quality Custom Photo Card from Tiny Prints
WOW THIS IS HOT & AMAZING! You can get a FREE father's day card from Tiny Prints with code FREEFD through 6/13 and Free Shipping! That is amazing! Hurry and snag one while you can!
Thanks A Few Short Cuts
8) $2 off Rimmel Lip Product Coupon = Free or Nearly Free at Walmart
There is a $2/1 Rimmel Lip Product coupon available at Coupons.com.
It states only redeemable at Walmart. I cannot find any prices online for these but I am sure you can get a great deal with it!
Thanks Mojo Savings
9) Gerber Graduate Puffs From $1.40 Each
I told you about these the other day. Add coupon code GERBR434 to get them for as low as $1.40 each!

Another staple that we have used quite a bit are the Gerber Puffs. Amazon has a few varieties of Gerber Graduates Puffs, 1.48-Ounce Canisters (Pack of 6)
for as low as $10.38 with Subscribe & Save, or $1.73 each.
Thanks Frugal Coupon Living
10) Border: 40% Off Any One Item (This Weekend Only)
Get 40% off of any one item at Borders.com when you use coupon code BMG8090W. This coupon code expires June 13, 2011. You do have to be a Borders Rewards Member to use this coupon code, but it is free to sign-up.
Shop Borders here.
Thanks The Thrifty Mama
11) Old Navy - 60% off Denim Shorts Today Only
Hurry over to
Old Navy
first thing this morning and you'll get to take advantage of their sale on denim shorts! From
7-11am ONLY
, you'll save
60% off denim shorts for the family.
This is an in-store event only and not valid online. This excludes clearance items.
This may be a good time to use that
Groupon
you got last week!
Find
More Retail Deals
on Frugal Coupon Living.
Thanks Frugal Coupon Living
12) Jos A Banks Shirts $9.98 Shipped
Head over to
Amazon
today and you'll find a bunch of
Jos A Banks Shirts for $9.98
shipped!
Just in time for Father's Day too! If you order them today, you will definitely get them in time. There are 14 different styles to choose from.
Find
More Father's Day Ideas
(it's next Sunday!) on Frugal Coupon Living.
Thanks Frugal Coupon Living
13) Free Subscription to the Wall Street Journal
Wowza!!!! This is live again and will go quick. Get a 6 month
Free Subscription to The Wall Street Journal.
It is absolutely Free and you will not receive a bill.
This is perfect to learn about saving, investing or just the news…. Hurry and grab either one of these, you will not receive a bill. Even if you don't want it, you might consider donating it or perhaps send to a family member.
Thanks Mojo Savings
14) Shape and Women's Health Magazines - $2.99+
Saturday 6/11 and Sunday 6/12,
Discount Mags
has discounted Women's Fitness Magazines.
Women's Health Magazine is $3.99/year or 73% off. Purchase up to 4 years. Add it to your cartand use coupon code FIT at checkout.
Shape Magazine is $2.99/year or 75% off. Purchase up to 3 years. Add it to your cart and use the coupon code with coupon code FIT at checkout.
Thanks Frugal Coupon Living
15) Free Kindle eBook Downloads
Remember, you don't need a Kindle to read these, you can get
Kindle for your PC for free
. Or, you can get Kindle for your
iPhone
,
Blackberry
,
iPad
and
Android
.
They Almost Always Come Home
Disturbed Earth
The Fort
Prepare for Preschool: The Video Guide
Lot's Return to Sodom: A Liv Bergen Mystery
Thanks Mojo Savings
16) Tanga.com 1 year of Shape Magazine $2.50
It stays the same. I love Tanga.com! They have daily T-shirt deals for $4.99 (good ones!) and their magazine deals are super-low prices. I've never had a problem with ordering from them and I've done so quite a few times."
Thanks Real Life Deals